One-on-One with New Chef Derek Crumbliss

This week I am excited to introduce you to our new Chef, Derek Crumbliss who brings years of experience to the TPC Café. We are aiming at opening on Monday, March 19, but you will see Derek on site later this week. Derek will be busy cleaning, organizing, familiarizing with our facilities and training new staff.
Q: Welcome to the TPC? How long have you been with Scott Howard Events and BRG?
I've been with both Scott Howard Events & BRG for over 2 years.
Q: You are going to be the new Chef, please tell us where you have worked previously?
My previous employers have included recently the Community Cafe in Sonoma, Robert Meyer's Mangia Nosh Catering of San Rafael, the former Paradise Bay restaurant in Sausalito, Whole Foods Markets in San Rafael & Petaluma, many private local caterers, my family's former Sequoia Terrace Cafe of Petaluma & the Swiss Hotel in Sonoma to name a few dating back to the 80's.
Q: What are some of your specialties in the kitchen?
Specialties: I've always had an affair with local products and creating multi ethnic cuisines. I've been currently creating and cooking comfort foods with an updated flair, and enjoy utilizing the cuisine techniques of the Mediterranean, Asian & Latin cultures.
Q: What do you like to do when you aren't working?
After work I enjoy doing my cooking research to stay abreast of what's happening currently. Outings to the beach & mountains with my wife Kellie and our grandson Andre. I enjoy everything our state of California has to offer with the bounty of great places to visit & dine.
Q: What message to you have for our membership?
To the members of TPC: I look forward to representing BRG & Scott Howard Events as your TPC chef. I hope to create and cause a stir within the membership that will bring us together at the table to enjoy great food and great company.
---
One-on-One with TPC Bar and Grill Operator, Marc Sebastian
Q: You are one of the busiest, but most organized guys that I know. You and Blake Andros are business partners – tell us about your businesses and what it is that you do?
Well thank you for the compliment! Blake and I have worked together for about 23 years. The current businesses we are involved in include 4 locations with Blake's Auto Body which is an auto body and paint business (we recently celebrated our 32nd anniversary this year); we have an IT business in Rohnert Park which handles computer needs from servers to IT architecture for small and medium size businesses; we have an e-commerce business that we are beta testing in New Zealand currently, built specifically with schools in mind; and finally – onto our passion of food – we own the restaurant known as Brick & Bottle in Corte Madera, which has become a great place for customers to hang out and enjoy great drinks and outstanding food, and are in the catering business, doing business as Scott Howard Events.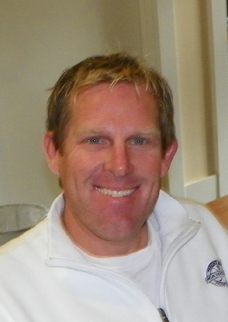 Scott Howard Events can handle events from small intimate gatherings at your home with amazing food designed and prepared by Chef Scott Howard, to events that exceed 8,000 people. We have also been at the Bay Club Marin and Ross Valley Tennis Club taking care of their food and smoothie needs for the last year or so. Last, but not least, we have joined hands with TPC for a wonderful new opportunity to continue in our venture with café and grill service. We are super excited with the new location and are so pleased with what we have planned. TPC will be the place to be this year!
Q: What attracted you to the food and beverage world?
I have always been into food. My mom is an amazing cook and I got to learn a lot from her. When I got older she always asked "what are you making the family for dinner?" I loved to be in charge for family dinner when I was young however that's since back fired and my wife now likes to ask the same question my mom did! Luckily, I do have my 7 year old daughter as my Chef de Cuisine.
Q: Adventure racing – (hope that is the correct title) – what is that? What has been your most interesting competition?
So adventure racing is a triathlon on steroids. It consists of 24hrs up to 10 days of constant racing. The main difference is you are part of a 4-person team which competes as a team the entire race versus competing as an individual against the field. We are given a course with check points that require different skills to get to. Normally we mountain bike ride, run, swim (or kayak and white water raft), rock climb with ropes and orienteer the entire course. My favorite course is on Mt. Shasta, which is a 5-day race. We sleep for approximately 1 hour per day and cover 300 miles – it is the most demanding course I have ever been on. I love the 6th day because we do a fun mountain bike ride with our team and then sleep for 15-18 hours!!
Q: What do you have in store for the club membership at the TPC? What is your vision for our food and beverage operations?
We have an amazing staff that is here for you. We have been hard at work creating a great opening menu with lots of fun stuff still to come. We want this to be a service-oriented business. We look forward to serving you where you are versus you always coming to us. You will see our staff, equipped with the latest technology, moving throughout the property taking orders and delivering to you. This will give you more time to spend at the pool or on the courts. We also expect to have some fun events in the Café like "Date Night" where the grill turns into a chef driven, local ingredient eatery, which will be a wonderful place to rekindle those relationships, while your children will be fed healthy food and enjoy their own entertainment. We hope you come by and see us soon and enjoy your new Café!
---
One-on-One with TPC Food and Beverage Director, Chris Haas
Welcome Chris Haas, the new Food and Beverage Director here at the TPC Bar and Grill. Chris is extremely personable and knowledgeable about the food and beverage arena. He is fun to work with and wants you to feel free to introduce yourself. Chris is going to have a section in the weekly each Monday about "what's new" that week in the Café, either related to an event or something special on the menu. In addition, he will have a weekly Q&A titled "Ask Chris." Email your questions regarding the Café to christopherh@tiburonpc.org.
Q: Welcome to the TPC as our new Food and Beverage Director! How long have you been with BRG (Blake's Restaurant Group) and what roles you have played with the company?
I came on board with BRG in the middle of last summer. I had been speaking with Blake Andros about some of the projects I was working on here in Marin and he decided to poach me away from my endeavors and plug me into the team at BRG. BRG was expanding very quickly in 2010 and I was brought in to consult and clean up some of the loose ends from expansion. As the summer ended, I took a lead role in developing their Refresh line of juices and foods and tightening up cost control and daily ops at their Bay Club Marin shop.
Q: I know you spent time at the Presidio Golf Course in San Francisco, but what are some of your other restaurant experiences?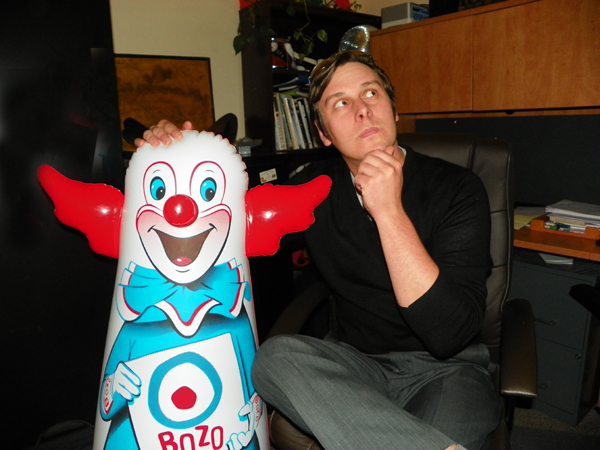 I spent one year managing the Dining Room at The Presidio Golf Course. I'm actually reuniting with two of the chefs and one of my former bartenders to go play there tomorrow! It's a beautiful facility with a dedicated management team looking after maintaining and growing its stature. I guess I started working in food & entertainment when I was a kid babysitting my siblings. It seems simple and silly but I swear I learned to make the best grilled cheese and scrambled eggs cooking for a finicky five year old (I still stand that I owe my first girlfriend to the mastery of said grilled cheese 😉 After high school I began college as a Poly-Sci and Journalism major at UCSB, but found myself pulled to the lure of the entertainment industry, playing in bands and organizing live events. After graduating with a degree in Sound Engineering and running a production company with several friends in Oakland and San Francisco, I moved up to Marin and went on to manage a Café in a bookstore while moonlighting as live sound engineer.
I hooked up with Steven Restivo Event Services and served as his second in command helping to organize and produce the Union Street, Fillmore Jazz, Ghirardelli and North Berkeley Festivals along with some fun little ones along the way. After about a year, I took a job managing a craft brew bar in San Rafael and began working as a cook doing everything from private charter cruises on the bay to flipping eggs at a family breakfast joint. Having tasted a little bit of everything, I began looking for a more structured managerial position and found the job at the Presidio. I enjoyed my time there, but nearing the end of my tenure I decided I still wanted more experience on the backlines before jumping into a F&B managerial role, so I headed up to wine country and began cooking at Diavola. Diavola was an incredible experience working with a premiere chef and butcher in Dino Buggica. I learned to break down animals, make salami and played with the art of a wood fire oven. Unfortunately, I never quite adapted to the change of pace living in Geyserville and moved back down south. Once back in Marin, I took a part time job as a butcher while I tried to compile the necessary pieces to open my own establishment. I was working and consulting with a couple parties in Marin when Blake and I reconnected. He introduced me to Marc who shared an equally ambitious and optimistic view of growing in the food and beverage world and I was more than happy to jump at the opportunity when they asked me to help them with their expanding organization. And then Jerry placed a phone call to the dining room at Brick & Bottle and… here we are. Whew. I guess that's about it.
Q: Rumor has it you were a heck of a golfer? How good were you?
What do you mean "were"?! No, it's true, I'm pretty awful now. I did used to have a little game, though. Golf was a fantastic blessing for me. It's actually how I met Blake Andros. My dad took me to the course with him and his friends when I was just a little guy and I guess I had a natural knack for hitting the ball really far and then rolling it in the hole. So when I started wanting to play on my own, I got my first job. I began working at Marin Country Club when I was 12 years old, picking up and cleaning range balls. The club let employees play on Mondays, but Blake and the Joe Petrash, the GM at the time, kind of discovered me hitting balls on the range and used to let me sneak out to play with them in the evening hours. My family went on to get a membership there, but I still tended to find myself hanging out behind the pro shop counter or in the kitchen more than the dining room. I played competitively in high school and at the national level towards the end. Golf allowed me to travel, learn about competition and discipline and, most prominently, failure. Golf is a game primarily of failures with great moments of glory coming only after having persisted through imperfections and challenges.
Q: What are some of your short terms goals to accomplish at the TPC?
Well, there is certainly a long list of administrative and operational needs on the docket right now. We've gutted and cleaned the kitchen, cleaned out storage and begun to build out our POS system. We still need to get all of our equipment in and get the staff fully trained, meet with our vendors to develop and install the new wine and cocktail program, and get our full menu with pizza up and running. We also plan on having a fresh juice and smoothie program in a matter of weeks and sometime soon beyond that offer prepared foods in the Fitness Center. All of these things are in process and moving forward, but I think my most important goal is to begin meeting the members and hearing about what they think of where their club is and where they want it go. This is a fantastic facility with so many options and underutilized avenues for enhanced food & beverage service, but the most pressing element is to make sure that the membership is on board with us and that we are moving in the right direction. The customer always dictates the direction of any business, especially in the service industry, but in this case it is especially true with a membership based clientele. We want the membership here to feel that they have an F&B program that keeps up with the rest of the facility, one that they can take pride in. It is our goal for this facility to simultaneously operate as a place one could meet for lunch after tennis or for a business meeting in the dining room and where their kids are being looked after and taken care of. It's a tough balance to find, but we're ready walk that line and look forward to all of the members' feedback and help in making this a quick success!
Q: What are some of your ideas to communicate with our membership?
On that note, right? Well, as I stated before, member feedback is a critical element of the success and enjoyment of the new F&B program here at TPC. In addition to being present and available during most operating hours over the coming weeks, both my email and voicemail have been activated so there are multiple avenues for reaching out to me with feedback. I would suggest that email is probably the best way to contact me and assures the most consistent and timely response. Also, Jerry and I have discussed implementing a weekly Q&A where I can pick out some of these emails and respond in a public forum on the weekly email blast. Going forward, it is also our intention to be well ahead of the curve in informing members of upcoming events, parties, specials, and closures in the Café. Ultimately, we want to foster the same feeling of inclusiveness with the membership that is present in the other departments of the club. I look forward to seeing you all around the club!