Q: What School are you currently attending? Where will you attend for college?
I currently go to St. Ignatius College Prep. and will be attending Stanford University next fall.
Q: What are your sports you have played growing up in Tiburon?
Growing up in Tiburon, I was a very active kid. I played youth soccer, ran track and cross country for St. Hilary's, played Southern Marin lacrosse, and swam for the Mikes and Ken on North Bay Aquatics.
Q: What has been your best accomplishments in sports? (Individual or Team)
My best accomplishment in sports has been being a member of the US Youth National Soccer Team. The top twenty girls in the nation get selected to represent their country abroad and within the United States. Playing with this team is an honor and very humbling.
Q: Were you and your two sisters always competitive growing up together? Did it help having such an athletic family?
Yes! My sisters and I have always been very competitive with each other. From who could eat more cheerios at breakfast to who could get up to the car first in the morning, everything in our house somehow transforms into a competition. I credit my sisters for my success. Every day they push me to work hard and get better.
My dad was an all-American football player in college, and my mom swam in college. Sports were always big parts of their lives, and it makes sense that my sisters and I love sports as well. Having an athletic family has helped me a lot. There is always someone ready to go run sprints or kick the ball in the backyard. My older sister, Kimmy, who plays soccer at Columbia University, has a Summer Workout program that I do with her. My family is very supportive, and without them I would be nowhere close to where I am today.
Q: I here you are currently in rehab for an injury. What is the injury and are you feeling better?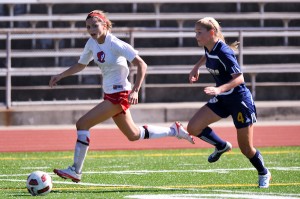 Fortunately, I am basically better. I had an overuse injury in my L5 S1 disc. I had to go to physical therapy three times a week for two months, but I feel strong and ready to get back into training. Having an injury made me realize how and why I play soccer. Not being able to play was really hard for me. It was a big lifestyle change and I am so grateful that I get to play again. It put everything into perspective for me. I don't play for the college scholarship or for my parents; I play because I love the game and have fun while playing it. My coach once told me that no one is a true athlete until after they rehab an injury. It is so true. Injuries are more of a mental blockade then a physical one. By thinking I was going to get better, the healing process went fast and now I get to get back to doing what I love. I am so excited!
Q: Would you like to play more than one sport in college or concentrate on one?
With the rigor and intensity of Division 1 college soccer, I think one sport will be hard enough. Stanford, overall the number one soccer school in the country not only has exceptional athletics, but very regarded academics. I think I will be pretty busy in the classroom as well as on the field.
If you would like to nominate a member, please contact Brent at brentr@tiburonpc.org.