We are fortunate to have Kathy Winkler as our latest Featured TPC Member. She has one lengthy athletic resume and holds many records in the Triathlon world. Kathy has been able to compete while still working full-time and raising a family. As you can imagine, balancing these demands requires great tenacity and perseverance.
TPC Fitness Director Brent Rodenbeck thanks Kathy for sharing her time as well as her inspiring story with TPC members. We congratulate Kathy on all of her accomplishments as a Triathlete. We can all benefit from working out next to legendary athletes and watching what it takes to be a champion.
Q: What are your race results over the last year?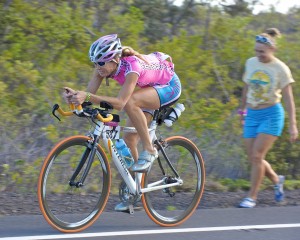 A: Wildflower Olympic Triathlon – Finished first in my age group
Alcatraz Triathlon – Finished first in my age group and set a new course record
Vineman 70.3 – Finished third in my age group
US Nationals Long Course – Finished third in my age group and qualified for World's Team
Ultraman World Championships – Finished first in my age group 1st Age group and set new course record, fourth female overall
Q: What are your personal highlights from recent races?
I think this year the highlight was going back to Wildflower Olympic and doing well. People had said once you go long distances you will never be fast again, so I was worried. I also of course loved Ultraman. The community of participants is very unique. This year was different than most, we had several female professionals which has not been the case before. It was quite a race! The top four women beat the previous overall course record which had stood for 20 years. Despite having a few issues during the event, I still had a great time. I didn't place quite as high overall as last year, but I was the first woman to cross the line with kids and a job, plus I had twelve years on the others, not bad for an old lady! I was very happy with the day.
Over the last few years I think highlights have been: Alcatraz winner ten times, two course records (or three now, I can't recall); overall Vineman female winner (back with Steve Larson); six times to IM Kona World Championships with 6 top ten finishes, 2 firsts, 2 seconds, a fifth and a seventh.
Q: What does your racing future hold?
A: Who knows what this year will bring?! I went to Nationals this year with the goal of just securing a slot for World's. It was not an A race for me, but I made my goal and will hopefully have an enjoyable time at World's. Really, if you are not having fun, why bother? I think the most important part of this is the journey and all the incredible people you meet along the way. I could in no way do this alone, I have so many great people who support me, whether it is with a smile, a long ride with me, handing out bottles on the side of the road, or riding along while I run, those people make it all so much more enjoyable!