$100,000 First Republic Bank Tiburon Challenger
We are about 5 months away from this Challenger. 2011 proved to be the best tournament in our 5 year history and there's no question 2012 will be even better. Each year our fund raising goal has to be increased so I've made plans to increase the size of our grandstand and add more private boxes including new "Sky Boxes" located above the fence on the south side of the stadium.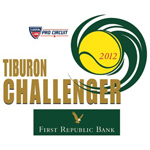 Box seats range from $1,000-$5,000 with all sponsor donations made out to the California Mentor Foundation (501c3). If sponsoring is not in the cards this year, there are many other ways to get involved. You can be an officials housing sponsor or simply volunteer at the event. If any of these options interest you or if you have any questions, please feel free to contact me.
Member Appreciation Day
Monday, May 28th (Memorial Day)
Be sure to come to TPC on Memorial Day for Member Appreciation Day. The tennis department will be hosting a free instruction day from 11:00 am – 1:00 pm with each court focusing on a different stoke. There will be a serve, volley/overhead and groundstroke court with a Quick Start court for the kids. We will also be unveiling our new Dartfish Video Analysis Software which will also be set up on an individual court. Drop by and see what you look like on video!
Battle of the Pro's
The 3rd Annual Battle of the Pro's will be taking place on June 22nd at the Belvedere Tennis Club at 6pm. Teaching pro's from the TPC will take on the teaching pro's from the BTC in a match to claim bragging rights for the Tiburon Peninsula.
We need to have a good crowd from our club as we're traveling into hostile territory. Be sure to put the date in your calendar to come out and watch the action!